What are… Two of the most common property drainage issues?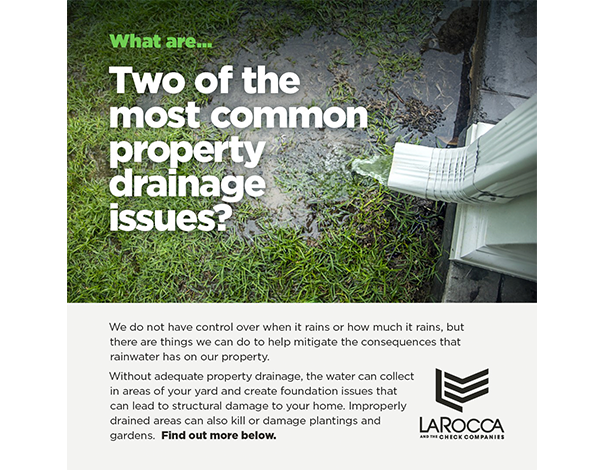 Excessive water buildup in the landscaping can create muddy and soggy areas that may invite insects to populate.
The number one problem we see as home inspectors is twofold. A lack of properly installed downspouts and gutters and improper grading of the surrounding landscape.
Let's discuss these two most common property drainage problems and what remedies may be available.
Gutters and downspouts are essential to your home's ability to collect and route rainwater, but if they aren't installed or maintained properly, problems can ensue. A common problem is when the gutters become obstructed, they can overflow, and water is left uncontrolled. Or when downspouts are not directing water away from the home leading to ponding and pooling near the foundation of the structure. This excessive moisture build up can lead to foundation issues and even sometimes mold growth.
The remedy is to make sure all downspouts are connected properly to the gutters and that they are pointed away from the home. They must also lead far enough away from the building to keep the water from pooling near the structure. In some cases, downspouts should be connected to a drainage system to carry the water even further.
Be sure to clean your gutters regularly. Things like leaves and pine needles, dirt and other debris can obstruct and even clog a gutter system. When the gutters become so obstructed, they are no longer capable of directing the water to the downspouts.
Make sure your landscaping is graded so that it slopes away from the home so water is directed away from the house. In certain circumstances drainage swales, catch basins and piping to the street may be necessary for proper and adequate drainage control.
Improper drainage on your property can lead to more significant issues like moldy and musty smells as well as mold growth, foundation settlement and cracking as well as erosion to the soil and planted areas around your home. Take these steps to help control the water runoff and minimize future problems from occurring.
Chris Griffin
President
LaRocca Inspections and the Check Companies