What Are Buyer Rights & Duties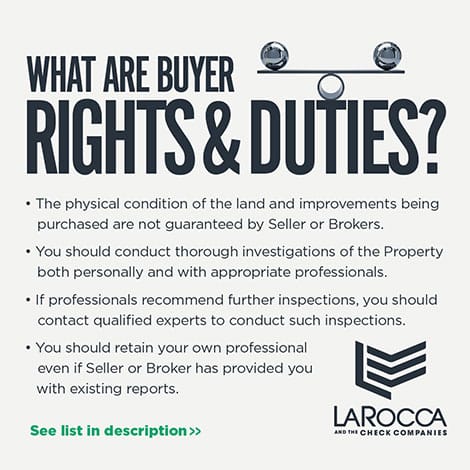 When it comes to purchasing a home, it is important for buyers to be aware of their rights and duties. As a buyer, you have the right to receive all relevant information regarding the property, including any defects or issues. It is also your duty to conduct proper inspections and due diligence before finalizing the purchase.
By understanding and fulfilling your rights and duties as a buyer, you can ensure a smoother and more successful home buying process. It can also help protect you from any potential legal issues or disputes down the line.
Below is a comprehensive list from the Statewide Buyer and Seller Advisory from the California Real Estate Association:
BUYER RIGHTS AND DUTIES:
The physical condition of the land and improvements being purchased are not guaranteed by Seller or Brokers.
You should conduct thorough investigations of the Property both personally and with appropriate professionals.
If professionals recommend further inspections, you should contact qualified experts to conduct such inspections.
You should retain your own professional even if Seller or Broker has provided you with existing reports.
You should read all written reports given to you and discuss those reports with the persons who prepared them. It is possible that different reports provided to you contain conflicting information. If there are discrepancies between reports, disclosures or other information, you are responsible for contacting appropriate professionals to confirm the accuracy of correctness of the reports, disclosures or information.
If the Seller is unwilling or unable to satisfy your requests, and you act within certain time periods, you may have the right to cancel the Agreement (the Purchase Agreement and any Counter Offer and Addenda together are the "Agreement"). If you cancel outside of these periods, you may be in breach of the Agreement and your deposit might be at risk.
You have the right to request that the Seller make repairs or corrections or take other actions based on inspections or disclosures, but the Seller is not obligated to respond to you or make any such repairs, corrections or other requested actions.
You are advised to seek legal, tax, and other assistance from appropriate professionals in order to fully understand the implications of any documents or actions during the transaction. If you are doing a 1031 exchange, you are advised to contact an exchange accommodator to discuss the proper method and timing of the exchange.
The terms of the Agreement and any counter offers and addenda establish your rights and responsibilities.