What Are Seller Rights & Duties?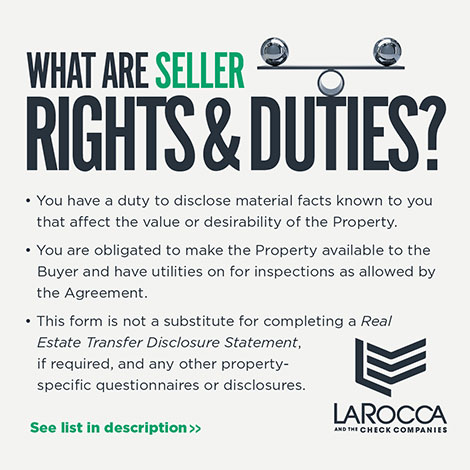 As a home seller, it's essential to understand your rights during the home selling process. Knowing your rights can help you navigate the process with confidence, make informed decisions, and protect yourself from potential legal issues. For instance, understanding the disclosure requirements, pricing your home fairly, and handling offers and negotiations are all critical aspects of the home selling process that require a clear understanding of your rights and obligations.
In addition to that, being aware of your rights as a home seller can also help you avoid common pitfalls during the home selling process, such as fraudulent buyers, breach of contract, and disputes over repairs or other issues. By taking the time to educate yourself on your rights as a home seller, you can ensure a smooth and successful home sale, and avoid unnecessary stress and legal issues.
An example of this being violated is not having the utilities on for inspections! Its small, but when the inspector comes out to go through the house and these are off he is unable to do the inspection and will need to be rescheduled, which could result in an additional fee.
Below are your full rights, listed straight from the Statewide Buyer and Seller Advisory from the California Association of Realtors.
SELLER RIGHTS AND DUTIES:
You have a duty to disclose material facts known to you that affect the value or desirability of the Property.
You are obligated to make the Property available to the Buyer and have utilities on for inspections as allowed by the Agreement.
This form is not a substitute for completing a Real Estate Transfer Disclosure Statement, if required, and any other property-specific questionnaires or disclosures.
The terms of the Agreement establish your rights and responsibilities.
You are advised to seek legal, tax, and other assistance from appropriate professionals in order to fully understand the implications of any documents or actions during the transaction. If you are doing a 1031 exchange, you are advised to contact an exchange accommodator to discuss the proper method and timing of the exchange.
Know your rights and happy selling!