Perspective. We have it!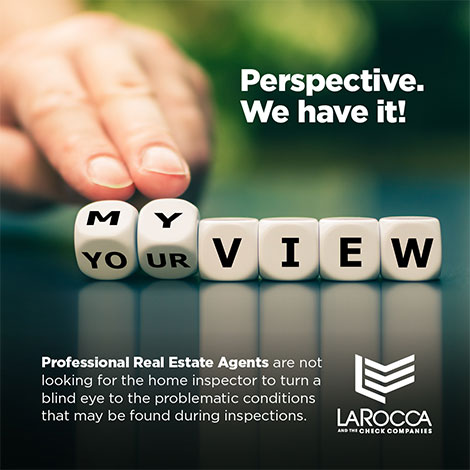 Professional Real Estate Agents are not looking for the home inspector to turn a blind eye to the problematic conditions that may be found during inspections.
Honest, reputable Realtors, would rather have their home inspectors do their job the way they were professionally trained and educated to do it, thereby gaining a clear and truthful picture of the condition of a home to communicate to potential buyers.
Real Estate Agents also want inspectors to deliver the facts in a non-alarming or exaggerated fashion. Agents are not interested in inspectors exaggerating findings or making buyer's feel like they are purchasing a piece of junk. If the unexaggerated facts lead the buyer to decide to look elsewhere then so be it, as long as it was based on the actual condition of the property.
According to the majority of Realtors that I have discussed this topic with the general consensus is that Real Estate Agents feel that the main difference between a good or a bad home inspector is in how they deliver the information. Realtor's want honesty, but most importantly they want perspective.